The Jackson-pedia definition of the Schwäbisch Alps in southern Germany is a travelogue of early solo journeys, practicing my high-school German, and learning the ropes of world travel, starting with the Junior Varsity level, western Europe. My time was spent looking around and making friends, but more of me was into drawing, photography, letters to my mom and dad, love letters to boyfriends, cassette tapes, and fiddle playing. It was as though the distance from home opened a valve I hadn't access to before. Lack of distractions, obligations, expectations, and habits allowed me to learn more about myself, cast on the backdrop of a foreign language, which meant illiteracy, or a four-year-old's language skills. This has been so for me still, after 35 countries now, in almost as many years. I sometimes go for the solitude; to find myself.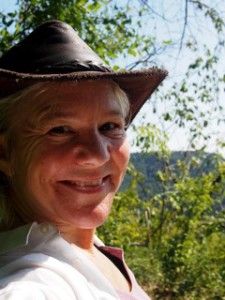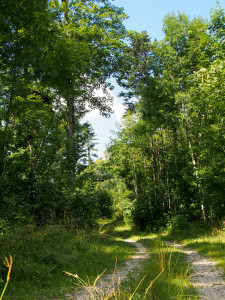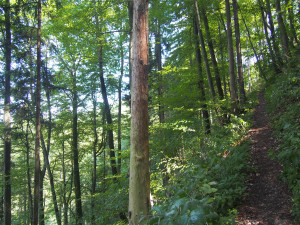 I first came to the Schwäbisch Alps in 1990 to visit my friend Evi with whom I have one of those instant sisterhood recognitions. Love at first sight. We met through a friend when she visited San Francisco. The earthquake had just happened. The Wall had just come down. She invited me out that summer and I came with the same pack I've always carried, and her flat was my HomeBase. From there, I went to Berlin to ride a shitty three-speed bike around the falling wall in its graffiti-peppered transition; and drank coffee at an "Imbiss" street caravan a la "Wings of Desire." I traveled to Munich and Greece and Ireland from Evi's house. Always returning for refueling and some hikes. That first summer, I worked in a tee-shirt silk screening factory, hitch-hiking there every day (nothing improves a foreign language better than hitch-hiking). Albstadt was to me this conservative traditional German region of little beautiful high-end villages that you raced between at 120 k/hour. Then you slowed down to wind through the village of old people, straight-laced people. Whom when you smiled at, pressed their lips together. We'd go out to the pubs in other Albstadt's in the region: Albstadt Tailfingen, Albstadt Ebingen, Hessingen. Each had a character, one had a dark pub, another's pub had three levels, and the music was always loud and the company smokers and Eurohipness. It was the 80's. In one heavy metal bar, I made out with the fully tattooed, Müll (German for Garbage).
That first visit, Evi lived in Albstadt Laufen, in the penthouse apartment of a high-tech company called Microway. I'd get up early and play my fiddle before the workers showed up in the stairway of this five-storey glass-and-steel celebration of German precision, with amazing acoustics. I still have a set of cassettes called "Treppenhaus." And evenings for a bit I washed the stairs for some money. Tall motorcycle-leather-clad guys came by the house and Evi entertained them talking the Schwäbisch dialect, while I took it in like a dog under the table, like an illiterate kid. And I'd write letters home and yes, I'd go on many many MANY walks–with a dog, often–in the woods where Evi lives. Wherever I've traveled, I seek out the trails. A place to find mamma nature, 'cause there I'll always be home. She hasn't failed me yet.
During one autumn visit in the mid-1990's, she put her blue suede chaps on me and we borrowed her then-husband's thoroughbred championship jumping horses without his permission and went out on a ride. We ran though fields free, I followed her on my enormous stallion, trembling and heart-in-mouth. When my feet came loose of the stirrups and we got to a good gallop, I yelled for Palermo to indicate I wasn't as cool as I seemed, and he ran for a low-hanging branch to wipe this bug off his big back, and knowing how to, I dived and rolled, but not without hanging my right ring finger up in the reins. The aftermath was peaceful and hilarious, and there was a pic-nic a few days later with the whole family in the hopes of retrieving my leather glove that was lost in the adventure. There it was, like a confession, hanging up high in a tree, and we snatched it down un-noticed. These memories form a lasting, untroubled, unquestioning freundschaft with Evi. Over the seven times I have been here, four of those times she lived in a different village but always in this region. And my visits would of course involve walks daily, lasting hours in these trail systems.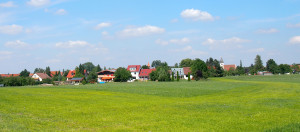 She took me to her father's village, Burgfelden, where her father and grandmother lived. Where she was raised. From where she rebelled and made her travels to Greece, Spain, Turkey, the USA. Her dad was still alive when I first came and we visited his old Swiss Chalet timberframe with the plaster and the steep roof, and it was dark inside, but Evi brought to life for me the atelier of her dad and her grandma that it once was. In the 60's this house was the only one with a TV, so the neighbors all came over for Football Games. It was a public house and gallery in the 50's. Her dad ran it. But when I visited in 1990, it was the smokey and dark home of a humble painter, whose life had become quiet. There were paintings and sculptures on the dark walls. And leaning against furniture. Everywhere. Evi walked me to the edge of the table-top mesa this village of 350 people live in and showed me the village of Balingen below, and talked of her grandmother's history here. That we are both artist's kids has always been a strong point of connection for us.
When her father passed away, Evi bought her sister's share of the 1600's house, and began reviving it as a neighborhood hang-out and art gallery. Today, the Berg Cafe is hopping with Saturday afternoon hikers, about 20 bicycles, spandex clad, healthy, well-read and airblown, drinking beer from glasses big as buckets, talking, smoking, laughing, and eating Evi's traditional potato salad. Night-before-last, the regulars, a pack of soft cotton button-down-clad, gentlemen gathered next to the Kachelofen and visited, played cards, eventually sang songs, rocking me in my attic bedroom. Last night, I joined the mayhem downstairs and played Happy Birthday and other great hits by the likes of Cat Stevens and Simon and Garfunkel on my fiddle. Everyone sang. Once a month or so, there is a live band, or a theater troupe in a house-concert setting with 40 or 50 people. And daily the phone rings with people reserving their place at this rarefied revival in a 1600's house of a 1950's artist's neighborhood hang.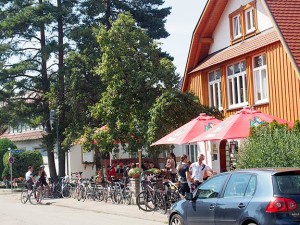 But still, I just thought that my German friend, like me, lived in a town where there was good hiking. I was wrong. The Schwäbisch Alps are a Thing. They are a destination for hikers. If I were a very wealthy hiking enthusiast, this would be a pilgrimage I would eventually make. And I might make a reservation to have a traditional potato salad and wurst in Evi's Berg Cafe. I would show up in a rented Benz or my own Tesla, wearing lightweight wicking reds and oranges, carry a hiking pole or two. The walkman in my fannypack would be replaced by a set of high-quality field glasses, maybe a wild-flower ID book. Or Hawks in Flight. If it weren't for this lucky bitch's fortune I would never be here at all.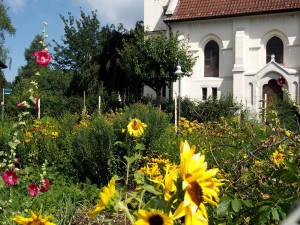 And the hiking. From pavement through to nipple-high grasses, and narrow single-track; from level to ass-burning steep, from a memorial bench painted with Edelweiss to a castle ruins, you can go for miles following carefully planted maps and signage. There are loops for an hour and loops for a day. There are welcoming outlooks onto the other villages below, frequent benches. Old trees that silently say sit here. Outstanding. World class hiking. It's called Traufgänge, and you can visit its website (sorry only in German but maps and awesome photos are universal). www.traufgaenge.de
If you travel to western Europe, take the trails in Albstadt. There is a website you can book your guesthouses and many guesthouses like Zum Berg Cafe.
August 22, 2015, Albstadt Burgfelden, Germany