Talking to my hosts last night was like walking through a garden, in that the deeper we went, the more flowers we saw, as it became clear who we all were: As we got to know each other. We were sitting very comfortably in a conversation circle, in a comfortable quiet house with a view on the garden, sipping tea. I know I shouldn't name drop (Paul McArtney told me that), but this is my garden, and I love the web people make, and we all have names. I was sharing about my Whole Earth Review and WIRED! past, in answer to why natural building for me. She beamed, she loved WIRED! Cool. Further, deeper … Cool Tools, the Long Now and Brian Eno comes up. They both beam and glance at each other. A small gate through which to peek…He mentions Robert Pirsig's Zen and the Art of Motorcycle Maintenance, and I realize what a great writing gimmick for my whole trip: To tell the story around the art of stove building, mixed with anecdotes and philosophical insights from the road. Can't say I've tried it yet…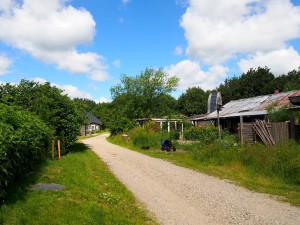 I have been remiss in 'blogging this trip because I have not been inspired to write. I have been inspired, just not to write. That's when I write badly, using dorky verbs like "duck," as in "…then it began to rain, so I ducked into a pub…" and "wandered" and "embarked."
This is not to say that I'm inspired to write today, but there's a need to color in between the lines of my infrequent facebook posts, as though blogging were a requirement of traveling. It will make me happy to have done it, as Virginia Wolf bitched about writing. So here you go, you fine people.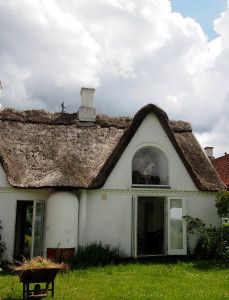 This trip is full of logistics and many, many places, as this is the first time I have ever traveled internationally for work: After a month of helping another guy write a book in Spain, I embarked (sorry) on a Book Tour, in which I present a slide show on Rocket Mass Heaters, sell some books, make some friends, visit some old friends, play some music, and drag a lead brick of paperbacks in a cardboard box in a broken suitcase on broken wheels, as well as my 30-year old backpack and my 200 year-old fiddle in a flax seed case with Wonder Woman stripes glued to both. Each day, I spend some time on research, advertising, and follow-ups; like a tour manager, 'advancing the show,' which means making sure the soundboard has the right nobs, the lights are strung, there's Pale Ale in the dressing room. Little time is spent going "It's raining, so I think I'll duck into the little pub."
The temptation, in order to catch up, as though I have to, is to present a survey of house types, heater types, musical types. I could report on which vertebrae were tweaked out by which guest beds, except all beds have been great. I could list what books on tape I listened to, but it's been the same chapter (8) of Neal Stephensens Solomon's Gold (because I keep falling asleep during it).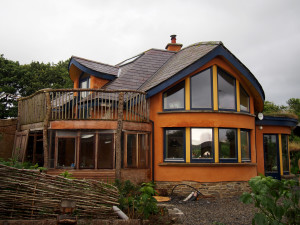 A few favorite statistics include number of times in 89 days that I've had to check into a hotel or B and B: 3.
Of the 16 different homes I have stayed in, 7 grow their own food, and 4 have composting toilets.
House types! Four are natural buildings of either cob or straw bale, or both, all of these have living rooves. One was a 12th c. castle; one has a thatched roof. Only one(!) was cheap new construction, and most are pre-1900 brick and stone with high ceilings and lots of character. Beautiful, brand new owner-designed Passive House with Rocket Stove and butterfly plants: One.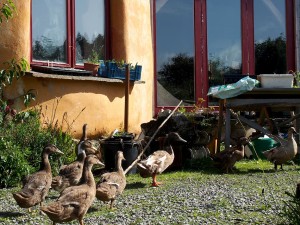 Heater types: Masonry heaters: 4 of 16 homes, and two of those homes had more than one! Rocket Mass Heaters: 2. Two, wood burning stoves, and both of the cookstove type, (the US equivalent is the old Wedgewood stove). You won't see many interior photos because I don't go publishing images inside people's homes without a good purpose…such as what, you ask? Just you wait and see!!!
Of the 16 homes I have visited so far, with some special ones still to come before journey's end, I can say that 100% of my visits with my hosts have been heartfelt, deep and warm connections, ever increasing in familiarity and joy as I go. This will culminate in the arms of one of my best girl pals in Germany, Evi….25 years and going strong. Hurray travel. Hurray lasting friendship. I miss you, those of you I left behind at home in beautiful Oakland, and I look forward to sharing smiles in person again soon.
Peace and Love,
Leslie
Den Haag, August 9, 2015