I'm in this old British resort town in Myanmar called Pyin-Oo-Lwin, where the coffee in this country grows. It's high up and the air is good. I got here by 12-hour overnight bus in which I was the only white person, then a motorbike ride through Mandalay a grungy city, then waited around for a shared cab to fill up, watching the gents chew betel nut & paining the sidewalks red with their spit, then a long car ride up and up into this funky old town. Checked into a guesthouse and I can hear piano –live?–as if someone is practicing across the street. It stops and starts again. Crazy melodies, weird times, unfamiliar scales but weirdly like North African/Arabic. but also cacophanous and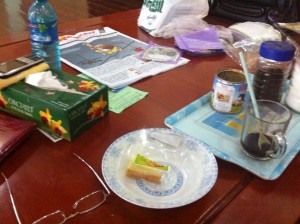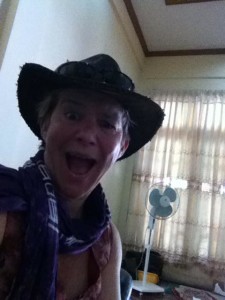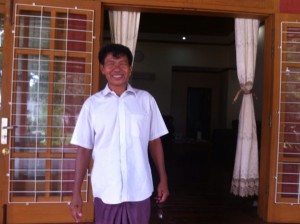 frantic. It sounds chaotic and LOUD! This I gotta check out, fuck the need to nap. A woman is pulling up to the gate of the place–a community center? a church?– I gesture, can I come through the gate too? Sure she gestures back and I gesture to get closer to the music. Sure she says again and a man comes in from the yard where he was maybe gardening. Come in sit down he says. He has a little English.

The music is canned and CRANKED in the space, not someone playing the piano after all! And this guy probably was rocking out to it while gardening. I explained I'm a fiddle player –the universal fiddle gesture. He sits me on this plush leather couch in this enormous room and plays DJ, putting on all this trad. music for me and giving me CD's and DVD's and brings me tea, coffee water, this catfood flavored chip snack, cake…

Turns out this is his living room, and I just wandered in off the street totally illiterate and he welcomed me. By the time I left we were both in tears over the Universal Language of music.
Yay travel.