Someone asked me why I do it. I was returning with an East German tourist from a waterfall in a shared tuk-tuk (motorbike with tiny covered truckbed attached) and saw a cafe / tea house I had been taken to before in the bamboo Buddha abduction. It sees few tourists, and felt homey and friendly. I have photos of their kitchen that they gladly welcomed me into. There, we met a Japanese man –introduced because he spoke English, and had been taken in by these folks. He wondered why we travel, and the East German answered the question; then the conversation swung to something else, so I had time to think about it before making my answer two days later, when the question arose again after the coffee farm visit. Contained in my answer below is a clue as to why I write long run-on sentences shamelessly, so if you're wondering, read on.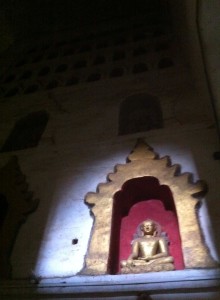 Why I do it, by way of anecdote: Yesterday I was in a big temple in Bagan called Ananda, taking pictures, drawing in the coolness of the brick temple, and listening to Sanskrit chants on my iPhone through earbuds. A formal procession flowed in led by a few really old monks, one supporting the other, followed by a line of old pilgrims dressed formally, in lace and silk shirts, traditional skirts (longyis) and garlands of jasmine flowers. I stood to the side to let it pass as well as to marvel at its display of devotion and ritual formality. But the (older) women were all drilling what I perceived as judgmental looks towards me. I'm sure they were: I was dressed in my leather hat, long sleeved back shirt, a scarf around my waist and loose black pants. I looked more like an apologetic aging belly dancer than a respectful tourist. I felt their anger, I handled it by wondering if they were Christians rather than Buddhists displaying so much judgment. I wondered about their Buddhist Practice if they couldn't Let Go of their perception of this Other person, from whom they are Not Separate. I got out of the way altogether and stepped into the vast courtyard and walked around barefoot on the stones baking in the heat, listening to my Sanskrit chants, and reflected on just how many ways I had entered the conscience of the pilgrims who arrived by bus–no doubt from a long distance–to be temporarily bummed out by me, then to get to practice Letting Go (or bitch about it to other old birds on the return trip in the bus).
What kinds of stares of misunderstanding, hate, and assumption am I shooting daily at others like me who forget a detail, at locals with what I perceive to have too many children, people chewing betel, tourists talking too loud, New Zealanders butchering the English language(!) Twice, I laughed at western men in traditional longyi; one for hiking his up while walking through the market, looking absurd, another who wore his too short… How barbed is the sword of my own looks (looks as in both perception
& appearance?) Buddhism would show me that this is the way I treat myself. Then how does this touch my dealings daily at home? Deeply.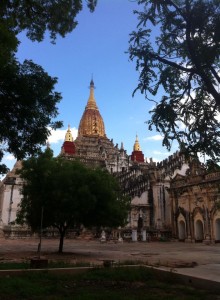 This is why I travel. Not necessarily to learn the culture and history of another country, though that certainly happens, not to get laid (though that used to happen), but to expand my horizons, both internally and externally. (And learn some fucking manners!)
To be illiterate in a place, not to understand its language nor even character-set, is to be a child again. Experiences are fresh and I am fresh against this backdrop: with this "beginner's mind" fewer filters stand in the way of looking out and looking in. Acting on this 'dreamscape,' just like in an actual dream, I exercise my personality. Without the safety nets of people who know, me, nor the expectations to be who they think I am, I can try on other characters. Forced to be solely responsible for my safety and comfort, I exercise a "parent" inside and though that might sound silly, how many Americans do YOU know who were Parented? Truly?
I have traveled for thirty years now and have been to as many countries, taking a long trip of several months every few years. I dropped out of college every other semester to do it, questioning if travel wasn't a better education for me than pushing a pencil in Rhetoric. It took 20 years to get my degree on this plan, and run-on sentence habits aside, I am thankful that I can continue to do it.