A hot wind is blowing on the tarmac and my half-hour flight to Bagan from Mandalay is about to board. If I had known what the events leading to these thirty minutes in the air were, I might have chosen the 12-hour boat ride or the 7-hour bus, and I might have arrived there a few times by now. Though no happier. This flight will take me over the ancient city that boasts over 2000 Buddhist temples.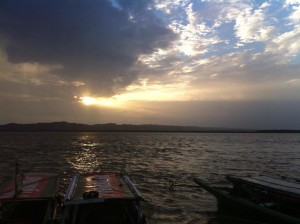 This morning I booked a shared taxi from my guesthouse down the hill to the city of Mandalay and the airport. A shared taxi, like casual commuting in the Bay Area, is a car whose driver is paid — 5 or 6 bucks in my case–for a two-hour trip in a comfy passenger car with airconditioning–& it leaves for the trip as soon as the car is full. There are designated places to hail such a taxi, or you can call in advance. It was an uneventful ride, with one stop for some fruit, and otherwise not much chatting. Arriving in Mandalay, I was passed on to another cab because my destination was the airport and the shared taxi only does that trip at a great expense. I love how systems look mysterious because I'm illiterate here, so: we're cruising the grungy streets of Mandalay, past teahouses, street vendors, moped and cellphone shops, a group of women showering behind a shoulder-high concrete wall, deathly traffic circles; and in some barrio the cab stops, the driver gets out, goes into a shop, comes out with another guy, then my passenger door is opened and I'm told to get out. This is my meeting spot with the other driver. I pay the first, we agree on a price for the second, and we're off, on a long drive to the remote Mandalay Airport where I am to arrive early enough to pay for tickets I have reserved online.
In the –empty–Airport, a kid in an Izod shirt with an airport logo shuffles over in his flip-flops and asks where I am going and on what airline. I tell him and he directs me to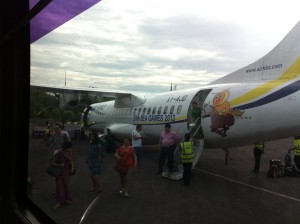 no where, so I ask at an info desk, they ascertain that I have a domestic flight and that I need to pay for it. We all laugh. The first guy accompanies me through a set of doors to the Air Mandalay Office, a 1970's run-down scene (pictured). I'm directed to sit down and a cold glass of water is brought. We joke that I am very early for my flight and that I will have to leave, eat lunch and return. The Manager, Moe Moe with whom I had exchanged email about this flight, presents a receipt for the two flights I booked, and we decide I will pay in US dollars. I pull out a stack, but he is not satisfied with the condition of the bills, but they are all I am carrying, so we will have to switch to kyats, the local currency. I pull out my cellphone for its calculator and in what feels like a back-room deal, determine the exchange rate (based on yesterday's blackmarket rate) and I make my offer in kyats. We count for each other, recount for ourselves the stacks of velveteen -with-age, creased, faded bills, and the agent I first met puts his shoes back on and shuffles off to the money changer with my stack of cash. I pretend to answer a phonecall on my celly and snap the images here, unbeknownst to the agent, though I am sure he'd have been happy to pose for a photo. I also use the calculator to determine what the airport's money changer would likely rather have. As I thought, when the agent comes back from his trip to the money changer, I owe a bit more and pay happily. I am sipping water, the agent is handling my acceptable 20's, one of which has a red stamp that says, "Impeach Bush." Moe Moe is writing up an airline ticket and its carbon copies, the way airline tickets used to be. Then he comes to sit beside me, puts his barefeet on the table rung and says, 'your flight to Bagan was cancelled so we'll put you on a KVB airlines flight 15 minutes earlier.' No problem, same cost, slips his flipflops back on and sits back down at his desk.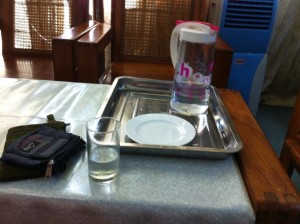 Deal done, and after shaking hands with Moe Moe, I am escorted by the agent through a security gate in which there are no lights on, and the conveyor belt is not running. Someone is fetched to turn on the conveyor belt, but likely doesn't bother with the ex-ray machine (if there is one), I place my pack on the belt, my cell phone and full water bottle in a separate tray, and walk through. A woman security guard appears, to pass a wand around me and pad my belly.
I am Good to Go with my pack on my arm and the agent points me to the Kipling Cafe, which once I get near to I can see is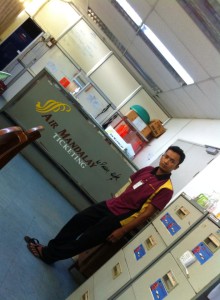 nothing but a few betel bespattered tables and chairs at random angles, a fan nearby, and three drink coolers with one or two cans of pop in each, all three lights-out and locked with chains. A glass cabinet that once served as a counter with an outrageously beautiful young girl in brightly colored traditional longyi (skirt), her jet black hair tied back in a modest bun, now stands dusty and alone in the dark. I move a roll of saliva-soaked betel leaf off a table with an abandoned piece of toilet paper and sit down at the open window, turn the fan on, and relax with some sunflowerseeds I stashed for this occasion. But soon I'm wondering about the scene at the bottom of the grand marble staircase where arrivals and ground transpo must be. Taking my celly and money along, but abandoning my pack, I venture down to find a bustling airport complete with the money changers, taxi-touts an ATM and a cafe brightly lit sporting three versions of the young woman who wasn't upstairs. I move downstairs, and am shelling sunflower seeds and reading a novel when our two airlines agents appear at my table (I am so used to the servers standing beside my table and watching me eat that I ignore them). Excuse me, sir, one says, but we forgot to charge you the airport tax of 1000 kyats for each flight. We look together at the emailed confirmation in my phone, he handling the phone like a pro, and find the small print, and I whip out some more tattered weary bills, taking my right elbow in my left hand, as is customary when giving and receiving. They go. I read. Soon after, one appears again, this time to tell me it's time to check in for my flight. He carries my pack and we walk upstairs, through the security gate, and we're joined by another guy and they say goodbye and thank you to me for the last time.
Now only an hour to go before my flight, I saunter like an eccentric poet dressed in flouncy hippy pants with custom tailored dress and leather hat into the one open business near my gate, a cafe/bar. Six cute young guys in traditional skirts and blue cafe jerseys jump up from the couch they were all in a puppy pile on, watching videos on a cellphone, slip back into their shoes, and rush around me eager to serve. I order a shot of espresso and a shot of Hennessy, as much to amuse them with my style and abundance as it was what was called for.
By now, the end of my first day here in Bagan I have seen temples on foot, from horse drawn cart ( for the sunrise this morning) and by bicycle. The opportunity to see them from the air was a large part of my appreciation for them on the ground.
–Templed Out in Bagan, Myanmar Hot Season, 2014.