I was awoken mid-coma after a sweaty ecstatic dance party to the sounds of a similar thumping disco bass riot in the neighborhood. The beauty of these tropical houses is that you can sleep under a mosquito net in the open air, leaving the technicolor clown show of fabulous bugs outside while snoozing to their racket in the mild temperatures. The trouble is the neighbors parties are broadcast in. Last night (& the night before I almost got up to dance on the deck just to make the best of it, but I was in bed for good reason! The epic four am sunrise trek the day before, and last night's cathartic crush of hippies insipid techno dance jam earned me my paralysis.)
All along on this trip, save for the awesome homes of friends along the way, I've stayed in 10-15 dollar-a-night basic digs: A fan, a hard cotton or wool mattress, tile or concrete bathroom with a drain in the floor that both the shower and sink water go down. If there is a toilet paper roll you remove it from the room when you take your cold shower, so it doesn't become a soggy mass. I've splurged a few times for a room with hot water, air conditioning, and a mosquito net, and those nights have been right on time. This house I'm in now, a Lucky Bitch Classic, is an indoor-outdoor, hardwood- and stone two-storey, with hot-and-cold running comfort and beauty. I'm using the peace and quiet to wonder at the wildlife noises and reflect.

Airplanes are erasers. They wipe memories of a place and leave little rolls of rubber and paper behind. I'll be home acting normal, and a memory will pop up from a smell or a sound , and I'll stand stockstill in the middle of something, staring dumbly while the smell of betel nut or fish paste wafts past. That's because an airplane flight wiped it before I wrote it down or otherwise absorbed it.
On my last day in Myanmar, I had this long airport layover: Three little hops from Bagan early, then an evening flight to Bangkok. So I called Nay Lind, the friend-of-a-friend, to meet me and show me around Yangon, the scrappy capitol city. Young, well educated, with great English, he's the perfect companion because I have seen some of the country by now. And have some impressions and lots of questions. I'd heard about a cool photography show called "Life on the Water" at a gallery called The Witness Yangon Documentary Arts Space. It's a hole in the wall on a cluttered and chaotic street above a hardware store. It shares a slippery, hot, eternal stairway with an NGO called Help for People Project (or something), where there were a lot of flip-flops on the landing outside the door. Finally on the fifth floor, we discovered we were twenty minutes early, so we wound back down, talking about how the cost of the electricity to operate an elevator prevents its use, and that's why there's a 4 x 8 sheet of corrugated metal in the way of the door.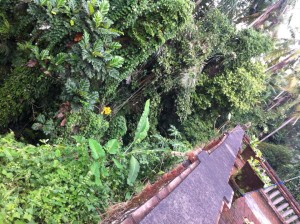 We risked our lives crossing the lawless road and ate at a Muslim joint offering only chicken and rice curry. Naylind tells me this is a small chain of restaurants in the city, but I don't see anything repeated about it, such as a business name or sign, menu, nor uniform, but the food is hearty and hot.
Back in the gallery, we were the only guests, and we breezed the show, then sat together by a fan with the coffee table book [a week in Burma?] on our laps. Each pageturn reminded Nay Lind of another atrocity by the corrupt government. After the big tsunami unhoused thousands of people, the USA sent a ship over with aid items like medicines and raincoats. The Government received the items, denied the aidworkers visas and sent them away, and sold the items. When Bagan, the plane of thousands of temples which had been inhabited by locals living their lives among the ruins; burning fires, making love, cooking food, making crafts, the Government decided to leave the tourist attraction free of real life, and relocated all the residents to a rice field south of town.
After the gallery visit, I was given peanuts, another nut that you fry, a crispy, greasy snack, and we went to the National Museum.
Written about Yangon, Myanmar, from a beautiful balcony in Ubud, Indonesia. July 5, 2014.